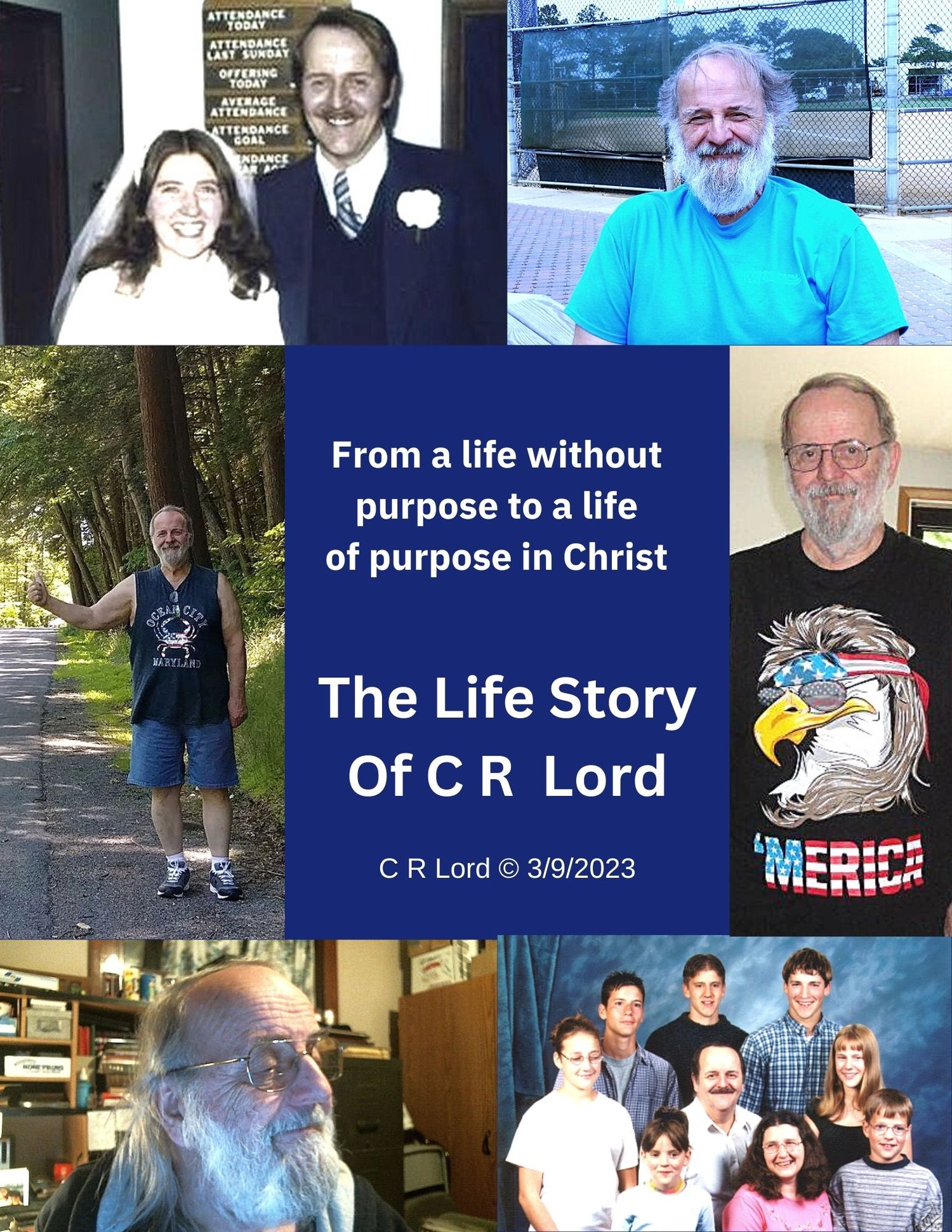 C R Lord Minister/Author


The Life Story Of C R Lord is now available - click below
C R Lord, Minister And Author
The book above is my most recent endeavor. It is 87 pages covering my life from birth through the present. It was created primarily as a legacy for my children and grandchildren and shows God's power to forgive. There is plenty there that many people can identify with from parental abandonment, military life, the drug culture and my part in that, attempted suicide, prison, salvation, and a loving family God gave us and how wonderful that has been.
I wear many hats from minister and author to husband, father, grandfather, website builder, content creator, and some I've probably forgotten. I have written and published nine books and plenty of teachings that I have done in text, text with images and video and audio. I also create content using God's gifts entrusted to me of poetry, design and art.
I am 80 years young and believe that my life has taught me many lessons that are valuable. I am sharing my life through my writing, social media, video and audio presentations in the hope that everyone who reads or listens to my presentations will find something they will identify with and will bless them and help them on the road of life.
C R Lord June 10, 2023
My Introductory Message For My Visitors
Massive change underway -- Check back often
Pleae Be Patient -- A lot of work takes time to get it right
Massive change underway -- Check back often Pleae Be Patient -- A lot of work takes time to get it right
DOWNLOADABLE CREATIONS AVAILABLE HERE
What's In Your Wallet
This is an very enjoyable story for both adults and children and carries a very valuable lesson for both. It contains an adventure retold for many years but never grows old or loses value.
Our children thoroughly enjoyed this!
Jonah, A Whale Of A Tale
This is a retelling in poetic form of the story of Jonah, a prophet of God who decided he didn't want to obey God and ended up inside a fish. Free for all to download and read to their children.
Download, read or watch the video
Trinity Or Godhead
This is a beautiful Creation Intended to teach what I believe to be the turth on this important subject. It's interesting that the word Trinity is nowhere to be found in scripture but the concept is.
Nicely done 10 page teaching for you.
BEAUTIFULLY DESIGNED BOOKLETS FOR YOU
Should We Be Boasting?
16 Pages - A Presentation challenging our pride and arrogance while giving credit where credit is due. Considering who alone is worthy of our praise is not desirable: for most of humanity at least.
Should we seek the approval of men?
The Christian Prayer Life
15 Pages - I believe that every honest person on the planet who is a Christian will confess that their prayer life hardly exceeds their expectations. This short booklet calls us to go up higher.
No man is greater than his prayer life.
Catholic Doctrine
14 Pages - This book is an examination of how Catholic teaching lines up with the King James Version of the scripture. The differences stem from who has the authority; Scripture or Catholic leader.
We must be right before we face God.